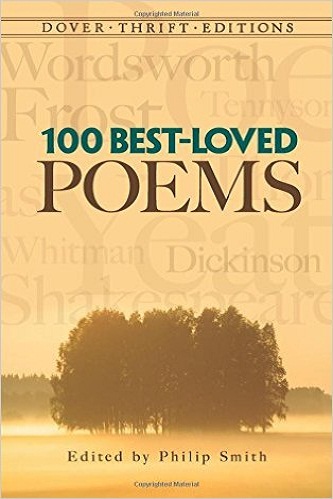 Popular, well-known poetry: "The Passionate Shepherd to His Love," "Shall I compare thee to a summer's day?" "Death, be not proud," "The Raven," "The Road Not Taken," plus works by Blake, Wordsworth, Byron, Coleridge, Shelley, Emerson, Browning, Keats, Kipling, Sandburg, Pound, Auden, Thomas, and many others. Includes 13 selections from the Common Core State Standards Initiative: "Stopping by the Woods on a Snowy Evening," "Fog," "Chicago," "Jabberwocky," "O Captain! My Captain!" "The Road Not Taken," "Musee des Beaux Arts," "Ozymandias," "Sonnet 73," "The Raven," "Because I Could Not Stop for Death," "Ode on a Grecian Urn," and "The River Merchant's Wife: A Letter."
Check Out What Readers Said about Kindle/eBook!
"A wonderful collection of classic and well known poetry by the great English poets whom folks from my ancient generation had to read, and often memorize. You'll recognize many of the words etched into the vocabulary of the English speaking world. It never ceases to amaze me of the depth of feelings these great poets had about life, heaven, hell, love etc.
Every now and then it is refreshing to put down the heavy stuff and read a good poem or two.
It will soothe your mind and rest your soul.
Then you can go back to the heavy stuff of murder, mayhem, sex, violence and political corruption, knowing that at some time, someplace, somebody had better thoughts and shared them with us." By tony from Philly
"Philip Smith has assembled a very good sampling of the best poetry in the English language. We read Marlowe, Shakespeare, Donne, Jonson, Herrick, Milton, Gray, Blake, Burns, Wordsworth, Coleridge, Byron, Shelley, Keats, both Brownings, Longfellow, Poe, Whitman, Dickinson, Hardy, Housman, Yeats, Frost, Pound, Millay, Cummings, Auden, Dylan Thomas, and many others. This inexpensive Dover edition is an excellent buy." By Michael Wischmeyer
Product Details
Author: Philip Smith
Kindle price: School & Library Binding from $16.08 Paperback $2.70
Age Range: 11 and up
Grade Level: 6 and up
Series: Dover Thrift Editions
Paperback: 112 pages
Publisher: Dover Publications; Dover Thrift Edition edition (October 4, 1995)
Language: English
ISBN-10: 0486285537
ISBN-13: 978-0486285535
Product Dimensions: 5.2 x 0.3 x 8.3 inches
Shipping Weight: 3.5 ounces (View shipping rates and policies)
Average Customer Review: 4.2 out of 5 stars See all reviews (208 customer reviews)
Amazon Best Sellers Rank: #5,271 in Books