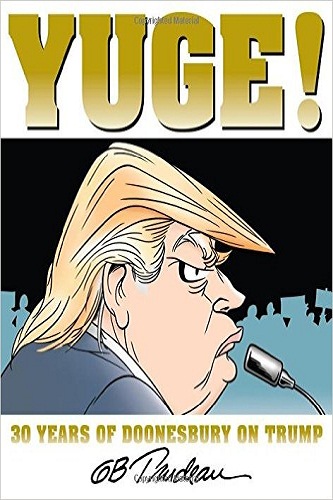 He tried to warn us. Ever since the release of the first Trump-for-President trial balloon in 1987, Doonesbury's Garry Trudeau has tirelessly tracked and highlighted the unsavory career of the most unqualified candidate to ever aspire to the White House. It's all there–the hilarious narcissism, the schoolyard bullying, the loathsome misogyny, the breathtaking ignorance; and a good portion of the Doonesbury cast has been tangled up in it.  Join Duke, Honey, Earl, J.J., Mike, Mark, Roland, Boopsie, B.D., Sal, Alice, Elmont, Sid, Zonker, Sam, Bernie, Rev. Sloan, and even the Red Rascal as they cross storylines with the big, orange airhorn who's giving the GOP such fits.
Garry Trudeau is the "sleazeball" "third-rate talent" who draws the "overrated" comic strip Doonesbury, which "very few people read." He lives in New York City with his wife Jane Pauley, who "has far more talent than he has."
Check Out What Readers Said about Kindle/eBook!
"UN-believable. You'll read a strip from 30 years ago and think it was from yesterday. Trudeau absolutely blasts this egocentric, shallow con man. My favorite line I read recently was "I love my country more than I hate Hillary Clinton." And I could not agree more. This man is the devil and Trudeau showed his cloven hooves and shallow me-first attitude decades ago.
Inheriting money from your dad does not make you a good businessman or negotiator. Wake up!" By Senor G
"I spent an entire afternoon laughing and enjoying Yuge. It's crazy to see how much he has NOT changed since the 1980's. GBT is like a soothsayer, alluding to Trump's presidential and reality TV show ambitions decades before they happened." By Tom
Product Details
Author: G. B. Trudeau
Kindle price: Paperback $10.39
Series: Doonesbury (Book 37)
Paperback: 112 pages
Publisher: Andrews McMeel Publishing (July 5, 2016)
Language: English
ISBN-10: 1449481337
ISBN-13: 978-1449481339
Product Dimensions: 8.6 x 0.6 x 9 inches
Shipping Weight: 13.6 ounces (View shipping rates and policies)
Average Customer Review: 4.7 out of 5 stars See all reviews (482 customer reviews)
Amazon Best Sellers Rank: #1,421 in Books